Having a small living room can be tough to make it look bigger and better.  When you have a small living room, you can't just add more furniture to it. You need to make sure that your space is well utilized by arranging furniture in your house properly.
There are several ways in which you can arrange your furniture in such a way that it would appear spacious even though there's not enough space available. Here are some ideas that will help you with this problem.
Opt for a Symmetrical Living Room Layout
One of the best small living room ideas is making a symmetrical layout for your furniture. In order to do this, you need to put one of your sofas on the longest wall in your living room, along with two chairs on each side of it. Place a coffee table between these chairs and sofas so that it divides them equally.

Image credit: https://cdn.mos.cms.futurecdn.net/
Do not be too streamlined because your small space can feel boxy, so break up lines with plenty of curves and textured surfaces. Try to incorporate seamlessly hidden doors when wall space is at a premium. This way, the seating arrangement in your living room would look balanced and won't seem crowded at all.
Float Furniture
Floating furniture is another great small living room idea that can help to open up the space. Using furniture that isn't attached to the walls creates an optical illusion of more space. So instead of using a traditional sofa and chairs, try using a daybed or even a bench as your seating.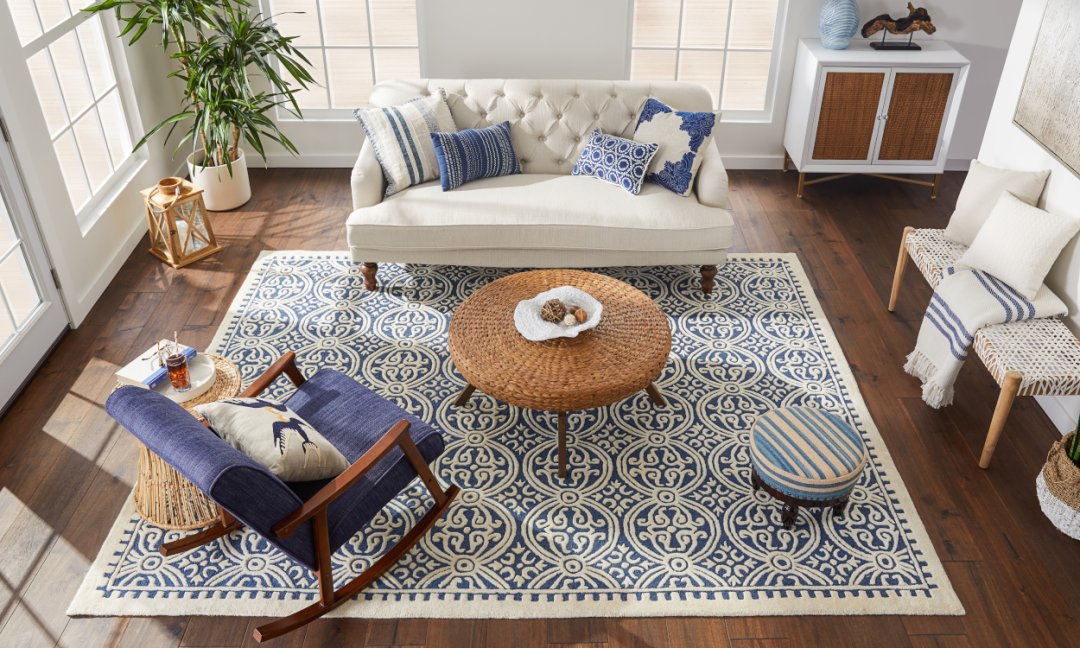 Image credit: https://d28m5bx785ox17.cloudfront.net/
This will also allow you to use the wall space behind the furniture for storage or décor. Avoid the urge to push all your furniture against the wall. Creating space behind the furniture will make the room look bigger.
Consider Vertical Space in Small Living Rooms
Make use of the vertical space that you have in the room. Using floor-to-ceiling shelves will create instant storage and include some design elements in your living room. Utilizing both horizontal and vertical areas will again maximize the amount of space you have available for use.

Image credit: https://www.thespruce.com/
Built-in Shelving
Whether you inherit a small sitting room or you're making some renovations to your existing space, built-in shelves for an extra decorating storage zone. Floating shelves are also a great option if you can't build in. You can build the bottom shelf so that it has enough room for an extra seating option. Keep the same color as the wall.
Layer Coffee Tables
If a set of nesting tables are too small for your room, plus a large and bulky coffee table is out of the question for your small room, don't worry. Instead, layer two streamlined coffee tables to fit your space. If you can't fit two coffee tables, these tables also look great as a set. Make sure you go to ornate furnishings and look for a table with simple or delicate lines. The table should seem to disappear to give the room an illusion of more space.
rrange Furniture Around Focal Point
You want to make sure that you have the furniture arranged around your focal points like a fireplace, a TV, a window, and a piece of wall decor to serve as the room's center of attention. But make sure that the focal point is far enough away from the entrance and exit of the room so that there is enough space for people to enter and exit. Position your furnishings around or directly facing the focal point to maintain a clear view.
Hang a Chair
If you're short on space, you can hang a chair from the ceiling. This will free up some floor space, and it can be a great place to relax or take a nap. Swing chairs are super fun and seem to be having a design moment right now. They can be a lifesaver in your family room.
Try Cafe Style Seating
Banish the traditional and conventional coffee and end tables instead of cafe-style seating. This is a great way to serve your guests, as it allows them some flexibility when holding their plates or mugs.
A single person or a pair of people doesn't need a massive dining room table to suit their needs daily. If your living room is serving as a dining room, consider a round cafe table with two chairs. This way, you can easily pull it out from the wall to fit four in a dinner party by adding two folding chairs.
Get Creative with Furniture Layout
Limited space challenges you to think beyond seating conventions. You have to look for ways to maximize your space. If your small room is narrow and long, consider using furniture to divide the space into two separate living areas. For example, place a sofa and coffee table at one end of the room and a TV stand and chairs at the other. This will help to give the illusion of two separate spaces.
Create a Cozy Nook
Blank walls are the enemy of anyone who values cozy nooks. Give your small living room an illusion of depth by hanging a length of fabric behind the sofa, which will make your space seem larger than it is. Quirky niches and recesses can help transform your small room into a comfy seating area without taking much floor space.
Rethink Your Lighting Scheme
Of course, small living rooms also need decent lighting, but table lamps and floor lamps can feel like a luxury when you try to squeeze every square footage out of the floor plan. Consider swing arm wall sconces or ceiling-mounted fixtures to provide light where you need it. These will make stylish reading lamps, leaving side table surfaces free.
Utilize the Back of Your Sofa
In a tiny living room, every space is an opportunity, so think about using the back of your sofa as a low-profile storage unit. A bookshelf or plant stand placed here is the perfect way to display collectibles and offer extra space for small living room accessories, such as remotes and coasters. Make sure you incorporate these elements without interfering with the elegance of your small sitting room.

Image credit: https://loveincorporated.blob.core.windows.net/
Consider Small Living Furniture Colors and Styles
When choosing furniture for a small living room, think outside the box. Go for unusual styles and colors to maximize visual interest and make the space feel larger than it is. With such a limited amount of square footage to work with, every choice you make needs to count. White walls, slipcovers, and accent furniture will make your entire room look larger.
llow the Light to Pour In
If your tiny living room has access to a ton of natural light, don't block it out with black curtains. Let light pour in to make the space feel more airy and open. Even if you don't have larger windows and tons of sunlight, choose lighter shades of paint and coverings to let your space feel as airy as possible.

Image credit: https://www.mymove.com/
One trick for letting light in is painting the ceiling a lighter color than the walls, which will give it a more open appearance even if painted a dark shade. This trick works especially well if you have vaulted ceilings or a very tall wall where your living room meets another space.
Maximize Space
Another way to make the most of a small living room is by maximizing your space. When buying furniture, choose those that can do double-duty, like an ottoman that can be used as a coffee table or extra seating. Look for tables and shelving that can be tucked away when not in use, and try to avoid leaving too many gaps that create wasted space.
Choose a Large Rug
Choosing a large area rug is a trick that will make your small space feel bigger. Unlike smaller rugs, larger rugs don't break up the floor. This can also help you anchor the space and give you a foundation for the rest of your furniture arrangement.
Fill the Room with Furniture
One of the best ways to make a small living room feel bigger is to fill it with furniture. While this may seem counterintuitive, it will help to create visual boundaries and give the eye somewhere to rest. Choose furniture in different shapes and sizes to add interest, and be sure to use mirrors to reflect light and create the illusion of depth (and more space).

Image credit: https://cdn.vox-cdn.com/
When choosing furniture for a small living room, avoid bulky pieces. This will prevent the room from feeling too crowded. Instead of opting for large sofas or couches, choose loveseats or sectionals open on the ends. These can still seat many people, but they don't take up as much room.
FAQs about Furniture Arrangement Ideas for a Small Living Room
What is the best furniture layout in a small living room?
Armless chairs such as slipper chairs can be great in a small living room. They don't take up much space, and they add interest with their different shapes and textures. Another option is to use a small corner sofa that fits well in the corner of the room.
Can I use a sectional sofa in a small living room?
Yes, you can use a sectional sofa in a small living room. Just make sure that the sectional is open on one end, so it doesn't take too much space.
Final Thought about Furniture Arrangement Ideas for a Small Living Room
Whether you're working on a tight budget or looking for a specific style, you can never go wrong with furniture arrangement ideas for your small space. There's always a way to make your furniture and room work and look great. You can also seek the help of an interior designer if you feel overwhelmed.
The post Furniture Arrangement Ideas for a Small Living Room appeared first on Kitchen Infinity.
Did you miss our previous article…
https://www.thelavkitchen.com/?p=853